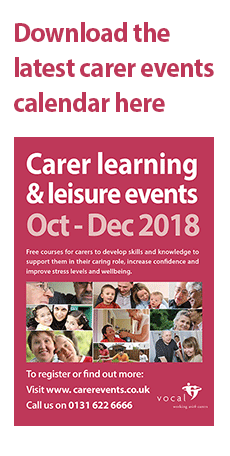 Adult Carer Support Plans and Carers Rights
Thu 21 Feb
10:30 - 12:30
As a carer it can sometimes be hard for carers to know about their rights and entitlements. This short seminar provides an overview and signposts carers to further support.
Duration: 1 week
Who is this course for?
This course is for anyone interested in the law or learning more about their rights as carers.
Weekly Breakdown
This session gives an overview of the rights of carers and will focus on the newly introduced Adult Carer Support Plans, what information they capture, how to prepare for creating one and what might happen afterward.
What carers will get from this course
Information about you rights under the Carers Act and other legislation.
An opportunity to meet other carers.
Related Events