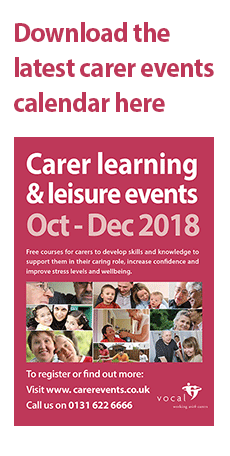 Caring for a child with additional needs and thinking about behaviour
Thu 1 Nov - Thu 15 Nov
10:30 - 13:00
Event Navigation
Parents of children with additional needs often tell us that they find some of the accompanying behaviour difficult to deal with. This course explores methods of coping with this behaviour and to develop personal coping strategies.
Duration: 3 weeks
Who is this course for?
This course is designed for parents/carers of someone under 16 with additional support needs.
Weekly Breakdown
Week 1
How Do We Feel About the Behaviour
Unpredictable or challenging behaviour can generate a wide range of emotions for parents/carers. This session provides a space to explore feelings and to develop strategies to deal with them.
Week 2
Understanding the Behaviour
This session explores why certain behaviours arise and how best we can understand them. There is practical advice about how to deal with some situations and about where to turn for support.
Week 3
Looking After Yourself
Supporting a child with additional needs can impact on the physical and mental health of parents/carers. This session explores how carers can look after themselves and has a particular focus on stress management.
What carers will get from this course
An insight into what may trigger certain behaviours.
Approaches to de-escalation.
Information on where to access support.
An opportunity to share with others.
Related Events