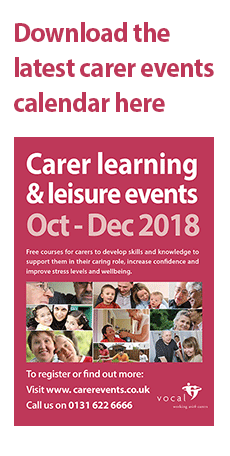 Respitality Trip: Visit to Dynamic Earth (November)
Wed 21 Nov
10:30 - 17:30
Event Navigation
Dynamic Earth is the only visitors centre in the UK dedicated to telling the life story of Planet Earth. Expect cutting edge technology and state of the art interactive displays before being transported hundreds of millions of years back to the very beginning of time. You will fly across glaciers, feel the Earth move beneath your feet and experience the chill of polar ice – all this before embarking on a 4ADVENTURE across the globe before you crash land in a tropical rainforest.
Duration: 1 week
Who is this trip for?
This trip is for a carer and companion.
Weekly Breakdown
10.15am – Meet at Dynamic Earth.
10.30am – Explore at your leisure.
5.30pm – The attraction closes.
What carers will get from this trip
A social event.
Time away from your caring role.
A day trip.
Explore the attraction at your leisure or with other carers from VOCAL – meeting at 10.15am to start your adventure!
Related Events