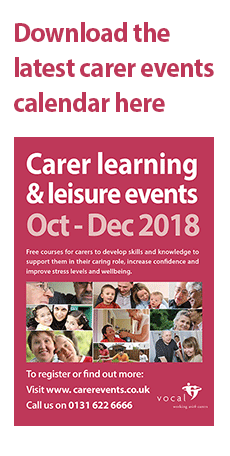 Weight Management sessions
Tue 29 Jan - Tue 12 Mar
10:30 - 12:30
Event Navigation
An opportunity to think about weight, how and what we eat. There is no pressure to lose weight.
Duration: 7 weeks
Who is this course for?
Carers with in an interest in thinking about weight management and health in general.
Weekly Breakdown
Themed input and support from a Scottish Slimmer's consultant who provides advice and guidance on diet models suggested followed by a carer focused input from Hazel, one of the carers support team at VOCAL, who will support the group to think about the bigger issues that affect our eating patterns and our wider health.
In addition each week there will be a weekly optional weigh in.
What carers will get from this course
Advice and guidance from a Scottish Slimmer's advisor.
Support from a carers support worker to reflect on how caring has impacted eating patterns, health and weight.
Support from a carers support worker to identify how and why to make changes.
Motivation and support to make changes if desired.
An opportunity to learn and share with others in a similar situation.
Related Events